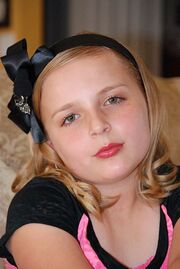 "Strange Music means everything to me; Tech N9ne and my parents built this out of our basement 11 years ago and it's grown to be this big now. It's amazing, I'm proud to be a fan of Strange Music."
Mackenzie O'Guin is a singer and the daughter of Strange Music CEO Travis O'Guin. She has appeared on several Tech N9ne songs such as "Demons", "K.O.D." and "So Lonely". Mackenzie has said that she wants to continue being an artist and working with Strange Music, but if that doesn't work out she wants to be a prosecuting attorney and/or an astrophysicist.
She was signed to strange music in 2015 under the name Mackenzie Nicole, producing Actin Like You Know (ft. Tech N9ne) and Deleted, which was featured on Tech's 2016 album: The Storm.