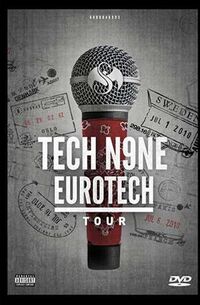 This article is about the concert movie. Visit EuroTech Tour for the tour itself.
EuroTech is a concert movie by Tech N9ne which was released on DVD July 12, 2011. It features Tech and Krizz Kaliko among other Strange Music artists touring in Europe and performing in clubs and on festivals in Norway, Sweden, Denmark, France and Switzerland.
Songs by appearance
Edit
Oslo, NorwayEdit
Copenhagen, DenmarkEdit
"Midwest Choppers" by Tech N9ne
"Welcome to The Midwest" by Tech N9ne
"Like I Died" by Tech N9ne
"Anxiety" by Krizz Kaliko & Tech N9ne
"Misunderstood" by Krizz Kaliko
Nibe, DenmarkEdit
"Caribou Lou" by Tech N9ne
"This Ring" by Tech N9ne
"Bare en Pige" (Just a Girl) by L.O.C.
Paris, FranceEdit
"Blackened The Sun" by Tech N9ne
"Blown Away" by Tech N9ne
Mulhouse, FranceEdit
"Leave Me Alone" by Tech N9ne
Fraunfeld, SwitzerlandEdit
"Slacker" by Tech N9ne
"I'm A Playa" by Tech N9ne
"Stamina" by Tech N9ne
References
Edit