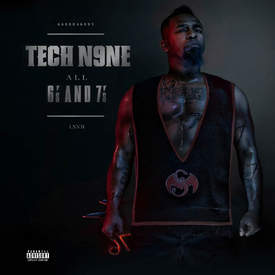 All 6's And 7's is the ninth solo album by Tech N9ne, and was released on June 7, 2011, on Strange Music. The album sold 55,715 copies in its first week of release, debuted at number 4 on the Billboard 200 and peaked at number 1 on the Billboard Rap Albums chart. This makes All 6's And 7's Tech N9ne's highest charting album to date. As of March 2012, the album has sold approximately 187,000 copies in the US.
Background
Edit
Tech N9ne stated that the title of the album means "in a state of confusion and disarray." He also said that it would be his "biggest" and "craziest" album of all. Guests for the album included B.o.B., Hopsin, Yelawolf, Snoop Dogg, Jay Rock, Twista, T-Pain, Lil' Wayne, E-40, Busta Rhymes, Kendrick Lamar amongst others. Tech had expressed an interest in collaborating with Nicki Minaj, Janelle Monae, and Tyler, the Creator. Eminem was originally set to be on the album, but could not record a verse in time for the album's release.
Singles and music videos
Edit
1. "He's a Mental Giant" was released May 4, 2011.
2. "Mama Nem" was released May 8, 2011.
3. "Worldwide Choppers" was released May 31, 2011.
4. "Love Me Tomorrow" was released N/A.
5. "Am I A Psycho?" was released January 22, 2012.
Music videos have been released for "He's a Mental Giant," "Mama Nem" and "Am I A Psycho?".
Track listing
Edit
| No. | Title | Artist(s) | Producer(s) | Length |
| --- | --- | --- | --- | --- |
| 1. | "The Pledge (Intro)" | Tech N9ne | Ben Cybulsky | 0:42 |
| 2. | "Technicians" | Tech N9ne | Soleternity | 3:52 |
| 3. | "Military (Skit)" | Tech N9ne | Ben Cybulsky | 0:21 |
| 4. | "Am I A Psycho?" | Tech N9ne, B.o.B., Hopsin | B.o.B. | 4:04 |
| 5. | "He's a Mental Giant" | Tech N9ne | Seven | 3:54 |
| 6. | "Worldwide Choppers" | Tech N9ne, Busta Rhymes, Ceza, D-Loc, JL, Twista, Twisted Insane, U$O, Yelawolf | Seven | 5:26 |
| 7. | "We Miss You Man Man (Skit)" | Tech N9ne | Ben Cybulsky | 0:46 |
| 8. | "I Love Music" | Tech N9ne, Kendrick Lamar, Oobergeek | Emay Dee | 3:46 |
| 9. | "Strangeland" | Tech N9ne | J.U.S.T.I.C.E. League | 3:35 |
| 10. | "Call From Ritchie (Skit)" | Tech N9ne | Ben Cybulsky | 0:34 |
| 11. | "The Boogieman" | Tech N9ne, First Degree the D.E., Stokley Williams | J.U.S.T.I.C.E. League | 3:51 |
| 12. | "Cult Leader" | Tech N9ne, Liz Suwandi | Seven | 4:46 |
| 13. | "Call From KC Poet Camile (Skit)" | Tech N9ne | Ben Cybulsky | 0:59 |
| 14. | "Fuck Food" | Tech N9ne, Lil' Wayne, T-Pain, Krizz Kaliko | Seven | 4:55 |
| 15. | "Overtime" | Tech N9ne, Stevie Stone | Jayson "Koko" Bridges | 3:00 |
| 16. | "Pornographic" | Tech N9ne, Snoop Dogg, E-40, Krizz Kaliko | Seven | 3:52 |
| 17. | "You Owe Like Pookie" | Tech N9ne, Kutt Calhoun, Jay Rock | Seven | 3:28 |
| 18. | "Delusional" | Tech N9ne, Nikkiya Brooks | WillPower | 4:12 |
| 19. | "So Lonely" | Tech N9ne, Mackenzie O'Guin, Blind Fury | Wyshmaster | 3:54 |
| 20. | "If I Could" | Tech N9ne, Chino Moreno, Stephen Carpenter | Seven | 3:27 |
| 21. | "Angry Caller (Skit)" | Tech N9ne | Ben Cybulsky | 0:20 |
| 22. | "Love Me Tomorrow" | Tech N9ne, Big Scoob | Seven | 3:44 |
| 23. | "Mama Nem" | Tech N9ne | David Sanders II | 4:22 |
| 24. | "Promiseland" | Tech N9ne, Nikkiya Brooks | Wyshmaster | 4:41 |
References
Edit